By Lovorko Marić

David Lynch, a name that is for many film enthusiasts the epitome for weird, surreal, and bizarre, surprised many people when he had characterised himself as a Boy Scout from Missoula, Montana. He is also known as "Jimmy Stewart from Mars," or "Jimmy Stewart on acid"—a very polite, happy-go-lucky, enthusiastic individual, who unironically uses words and phrases like "Golly!," "Holy jumping George!," "Howdy!" etc., and who just happens to have a vivid imagination that has been the basis of nightmares for many of his viewers. Contrary to popular belief, Lynch is not the type of a guy who, for instance, chops off his fingernails in his grandmother's basement and then puts them in his dinner salad, but is somebody who is actually trying, through foundations, meditation recommendations and charity work, to promote, and achieve without a hint of irony, peace and prosperity. But Lynch's worlds are full of such contradictions, full of idealists who also happen to be scoundrels below the surface, and Lynch is fascinated with the dark and perverse facet of the human condition, but also on the profound and gentle side of humanity, a soulful aspect of his work that doesn't get nearly mentioned as the former one. The oblique and mysterious nature of Lynch's work draws many to become obsessed with finding a universal explanation or an enlightened meaning to his films. But Lynch insists on never revealing what the abstractions in his films "mean," and he suggests to his viewers that they also try to find out for themselves more on an intuitive than a rational level as to what the disturbing visuals, the labyrinthian plots and the unreliable characters truly convey. Lynch claims that everybody is a detective, but it is also important to note that Lynch's movies are not merely a puzzle to be solved: they are to be experienced, after which a powerful cinema-going epiphany may come out of his best work. This set of essays will try and derive certain interpretations and explanations of Lynch's ideas, but they are in no way to be understood as definitive or let alone indicative of what the director himself was thinking. Every reader should be an autonomous detective indeed.
After an 11-year break from filmmaking, Lynch returns for, as he puts it, an 18-hour feature divided into 18 parts, called Twin Peaks, which sounds familiar to pretty much anyone remotely acquainted with the man's work. Lynch's cult television show that originally aired in 1990 and 1991 and revolutionized television storytelling returns, against all odds, for a special event series starring Kyle MacLachlan as Agent Dale Cooper. Very little is known about the plot or the characters, apart from the fact that it is indeed happening again, 25 years after the murder of Laura Palmer, the teenage homecoming queen whose death has set the plot of the old Twin Peaks into motion. A 200+ cast list has been released, including newcomers such as Naomi Watts, Laura Dern, Jennifer Jason Leigh, Tim Roth and Tom Sizemore. This mammoth project for a 71-year-old Lynch will, therefore, serve as a jumping point for Cinephilia & Beyond to go to the past and explore his ten feature films, starting from the debut film Eraserhead in 1977, all the way to Inland Empire in 2006. His short film, web, commercial and television work will not be included, with the clear and notable exception of Twin Peaks itself, which is an essential component for this retrospective.
A psychogenic fugue is a rare psychiatric disorder characterized by reversible amnesia for personal identity, including the memories, personality, and other identifying characteristics of individuality. —Varcarolis' Foundations of Psychiatric Mental Health Nursing
Fire Walk with Me was a milestone for David Lynch in terms of how it forcibly made the viewer enter the subjective world of protagonists, witnessing up close and front how those tortured individuals perceive the world around them, making the overall atmosphere more abstract and unreliable, expelling the voyeur from Jeffrey Beaumont's closet into the masochistic turmoil of Dorothy Vallens' living room. Lost Highway, Lynch's following picture, pushes the envelope further, forfeiting the unpredictable protagonist as a detective within his own story and renouncing that detective role to the viewer himself. Lynch's reputation as an impenetrable, obtuse filmmaker has come to the forefront with this movie, and the initial lukewarm reaction to the film was largely due to its incomprehensibility and deliberate, confounding plot. Years of analyses later, it is interesting in retrospect how much of the clues in Lost Highway are shown out in the open, in contrast to the more oblique ones in Mulholland Drive, a film that shares certain structural and thematic similarities. As with most of Lynch's films, its reputation has grown over time, with Slavoj Žižek being a notable fan, analyzing it extensively in various essays and documentaries.
Lynch has noted that he was thinking subconsciously of the notorious O.J. Simpson case during the creative process of Lost Highway, a case whose media-instigated hysteria has shaped so much of the American mid-1990s culture. Simpson was accused and tried for the brutal murder of his wife Nicole and her friend Ron Goldman, and after a long and torturous trial that was plagued by racial tensions (Simpson was a famous African-American football player, later a Hollywood actor who was never politically associated with the Civil Rights Movement, and an all-around establishment celebrity with a white wife in a predominantly white, rich neighbourhood, who suddenly became the poster child for the struggles of black Americans), Simpson was acquitted in a very controversial decision, not necessarily driven by reason. Simpson was afterwards tried again in a civil court and voted guilty. He is currently in prison for armed robbery. The political background of the messy Simpson case was not necessarily the main factor that sparked Lynch's creative juices, but the fact that after a highly-publicised police chase where Simpson threatened with suicide—before he was supposed to turn himself in—and during the trial, there was an element of perverse denial and a reborn spirit in Simpson, unequivocally denying any wrongdoing in his wife's murder, although an abundance of evidence claimed otherwise. This is where the connection with Lost Highway comes from—it is a movie about denial and escape from accountability, and about the sheer need to avoid the uncomfortable look at one's previous transgressions. Denial being a theme prevalent in Lynch's work, particularly in Fire Walk with Me, which implies more about the community of Twin Peaks and how many premonitions about Laura and her troubles it might have swept under the carpet.
The first 50 minutes of the movie are focused on Bill Pullman's Fred Madison and his wife Renee, played by Patricia Arquette, namely on their awkward, joyless marriage, characterized by sexual dissatisfaction and paralyzing, paranoid jealousy coming from the husband. It is implied that Fred is, in fact, impotent, and a clever flash of visual storytelling shows Renee condescendingly tapping Fred on the back after a particularly unsuccessful performance, with Fred being absolutely enraged by this crude type of false consolation. In this very slow-moving, hypnotic section of the film, with the slow-paced dialogue reminiscent of Eraserhead, the palpable dread of something very evil and disturbing coming is reflected in the ominous plot of mysterious videotapes coming at the married couple's doorway, showing their house… and their bedroom while they're sleeping in it. The theme of memory vs. recording is prevalent in Lost Highway, with Fred at one point blatantly admitting that he dislikes video cameras because he likes to "remember things his own way… not necessarily the way they happened." This is the most blatant clue of them all, where Lynch very openly makes it known that this is not a protagonist to be trusted, and that there are going to be plenty of obfuscations along the way. In one of director's most memorable scenes that stands in line with some of his best like the "In Dreams" or Red Room sequences, Fred at a party meets The Mystery Man, another one of Lynch's ghoulish, nightmare-inducing creatures, played by Robert Blake (creepily enough, another actor who has been acquitted for the murder of his wife), who—in an odd, classic Lynchian blend of petrifying and hilarious—insists that Fred calls his own house, ensuring him that he will be there, at both places at the same time. Lynch calls the "Mystery Man" an abstraction. He could be understood as an externalization of Fred's demonic and primal tendencies, but also an insight into Fred's conscience and acceptance of guilt, since the Mystery Man is more than often equipped with a video camera that is hunting and haunting Fred until there are no more alibis and cheap excuses to be found.
After Fred is arrested and sentenced to death for brutally murdering his wife, the Pete Dayton section of the story begins. Dayton, played by Balthazar Getty, is mysteriously found in the cell of Fred Madison and subsequently let go by the dumbfounded authorities. Dayton is a lot of things that Madison is not—young, sociable… and a sexual beast to boot. Very soon after his release from prison, Pete meets the seductive Alice, who looks identical to Patricia Arquette's Renee, except with blonde hair—this obvious Vertigo homage is one of many noir elements to the 2nd half of the film; whereas the 1st half of the picture was moody, sinister, claustrophobic, glacially paced and chillingly scary in certain moments, reflecting the mind of its rotten lead, the 2nd half is more dynamically paced, with brighter cinematography and its depiction of open spaces, giving the sense that the new protagonist is free to roam around in ultimate freedom, in comparison to Fred who was swallowed and imprisoned within his own jealous impulses. This however soon changes, and Fred's state of psychogenic fugue starts to disintegrate, with the introduction of the diabolic Mr. Eddy, a pornography mogul who really doesn't like two things: tailgating, and people who mess with his girl Alice. Robert Loggia's performance may seem occasionally like a poor man's Frank Booth (the irony is that Loggia tried to audition for that role, and after finding out he wasn't even going to make it for audition, he furiously yelled at Lynch for minutes… Lynch remembered the episode and cast him in this role because of that), but there are more subtle, quieter moments where Loggia's menace is established with more ease.
The B-movie noir plot, which includes footage of a snuff film featuring Marilyn Manson, follows to its predictable climax, where the naïve Pete is wooed and manipulated by the femme fatale Alice, shifting any kind of blame or responsibility to her, culminating in a sex scene sans climax where Alice in celebration declares that "he'll never have her." The illusion is broken, the cheap justifications of the young and innocent being exploited by the woman are shattered, and Fred finally comes back from his fantasy—and the Mystery Man awaits with the camera. The rest of the plot circularly comes back to the beginning (Lynch claims to this day that somebody literally rang the intercom on his house and stated "Dick Laurent is dead," just like in the film), with Fred not being able to completely vanish in the lost highway of his mind, being electrocuted in the process. Lynch rarely allows his characters to not reap what they had sown, and the fake world Fred invents for himself proves to be not a consolation, but a final confession gone laughably wrong.
Lost Highway is a cinematic lesson in mood, thematic depth and compelling rewatchability, although there is a sense of relief in its final twenty minutes as Pete transforms back into Fred, since Balthazar Getty's performance of Pete Dayton leaves something to be desired, seemingly incapable of carrying so much of the film's weight. David Foster Wallace has in his famous essay "David Lynch keeps his head" been famously nasty to the young actor, describing him as someone "who looks sort of like Tom Hanks and John Cusack and Charlie Sheen all smushed together and then emptied of some ineffable but vital essence," hitting the nail on the head as to what could be slightly inept about this young actor. Lynch's first collaboration with Peter Deming results in one of his most beautiful-looking films with an exceptional use of color (in particular and to no surprise, the color red), while the movie may be with the most punkish attitude one in Lynchland due to its use of popular music. Travelling along the lost highway with David Bowie's "I'm Deranged" (from the very underrated album Outside), or frantically driving amok from the cops with Trent Reznor's "Driving Theme," along with some of the finest work by The Smashing Pumpkins, and a deranged Screamin' Jay Hawkins cover by Marilyn Manson, Lynch covers a lot of ground from the 90s-alternative zeitgeist. Naturally, all is encircled with a moody, less immediate score by Badalamenti, inspired by the famous Polish composer Krzysztof Penderecki and his frightening, dissonant, orchestral compositions. Lost Highway, therefore, begins Lynch's unofficial "LA Trilogy," obsessed with themes of identity, denial, regret, and paranoia, a set of movies that contain Lynch's richest and most complicated set of ideas yet. But first he needed to make a G-rated Disney film, one of the most heartwarming films ever made, just to confuse the viewer in a way only David Lynch can.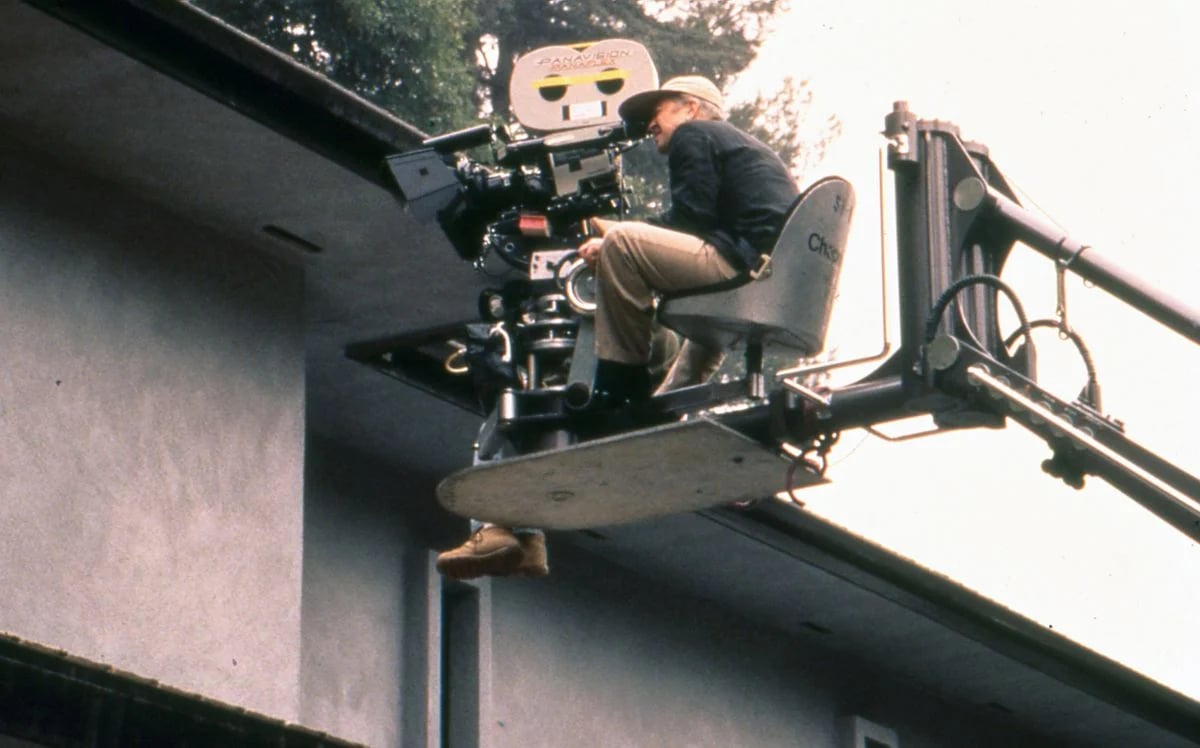 A monumentally important screenplay. Screenwriter must-read: David Lynch & Barry Gifford's screenplay for Lost Highway [PDF]. (NOTE: For educational and research purposes only). The DVD/Blu-ray of the film is available at Amazon and other online retailers. Absolutely our highest recommendation.
On a sunny December day in the Hollywood Hills, David Lynch sits in a deck chair on the outdoor patio of his filmmaking headquarters, a two-story modernist building that houses the aptly named Asymmetrical Productions. He is surrounded by the tools of the painter's trade: an oversized wooden easel, drippy paint cans, a scattered selection of brushes. Resting against a nearby wall is an unfinished example of his oeuvre: a large chunk of roast beef adhered to a canvas with an acrylic glaze, flanked on either side by the similarly embalmed corpses of a tiny frog and sparrow. Scratching at the salt-and-pepper stubble on his unshaven chin, Lynch appraises his creation. "That roast beef has gone through a strange metamorphosis," he says, folding his arms. "It was bigger when I started, but one day a squirrel came by and took a big hunk out of it. I'm kinda workin' with it." —Highway to Hell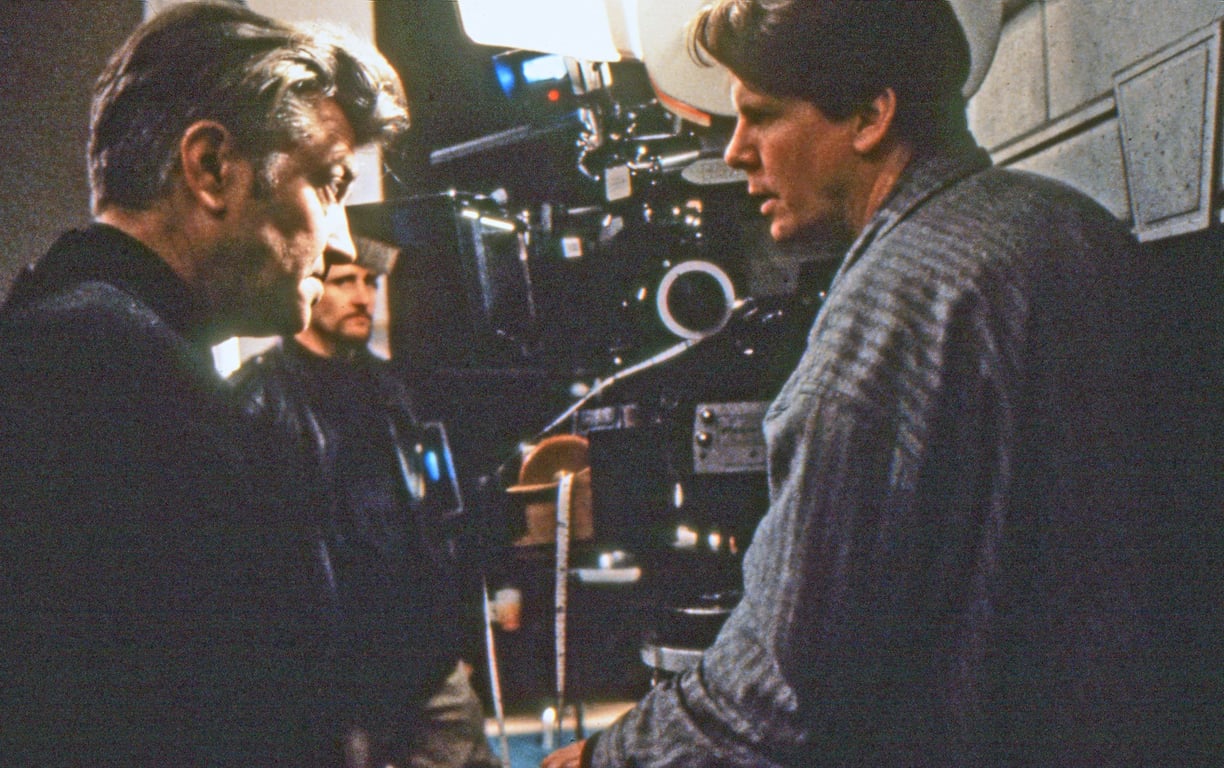 Here are several photos taken behind-the-scenes during production of David Lynch's Lost Highway. Photographed by Suzanne Tenner © October Films, CiBy 2000, Asymmetrical Productions, Lost Highway Productions LLC. Intended for editorial use only. All material for educational and noncommercial purposes only.
If you find Cinephilia & Beyond useful and inspiring, please consider making a small donation. Your generosity preserves film knowledge for future generations. To donate, please visit our donation page, or donate directly below: