Photographed by Stephen Vaughan © Warner Bros., Ridley Scott Productions
March 23, 2023
By Sven Mikulec

There's probably no proper or adequate way to introduce Blade Runner, Ridley Scott's 1982 masterpiece that proved so influential and beloved across countries and generations, to our readers. Luckily for us, there's actually no need to. This is not an essay on the complexities of the film's dystopian vision or the stylistic choices that still echo in today's cinema. Anyone even remotely familiar with our website is most likely well aware of the impact Scott's bleak sci-fi spectacle has had on cinema and cinemagoers alike. Written by Hampton Fancher and David Webb Peoples, adapted from Philip K. Dick's 1968 novel Do Androids Dream of Electric Sheep?, this captivating and visually stunning story of Rick Deckard and his hunt for replicants has stood the test of time, remaining one of the inescapable pillars of modern science fiction. Its road to general recognition and universal respect was a rather complicated one, as it's often the case with brilliant films with mediocre immediate financial results, but years have been kind to Scott's picture, whose originality and style transcends genre preferences. But as we've already stated, the reason you're here is hardly to be reminded of Blade Runner's greatness. We're here for one reason and one reason only: to offer you unprecedented insight into the holy grail of impossible-to-get collector's memorabilia. Ladies and gentlemen, we bring to you The Illustrated Blade Runner.
When the film came out in 1982, Blue Dolphin published this paperback book so as to enrich the film release, along with the Blade Runner Sketchbook. Standing as invaluable accessories and offering greater depth to Blade Runner's irresistible lore, both books went out of print over the years and became highly desirable objects on the market. While the sketchbook, a brilliant collection of Syd Mead, Mentor Huebner, Charles Knode, Michael Kaplan and Ridley Scott's production designs, can be luckily found floating around the vast online ocean, The Illustrated Blade Runner remained unattainable for our thirsty eyes, with occasional copies of questionable quality popping up at online retailers for basically small fortunes. As we've finally gotten our paws on a mint copy, we're delighted to be able to share this little piece of treasure with all of you.

The Illustrated Blade Runner offers not only Hampton Fancher and David Webb Peoples' working screenplay, but their iconic text is gorgeously enhanced with lavish storyboards and detailed illustrations. The value of it lies in the fact that we're finally able to fully appreciate the script that carved out the magic of Blade Runner. A true collector's edition if there ever was one, this 96-page book is a perfect companion to the Blade Runner collection on your shelves. Even if you're out of luck in terms of acquiring the physical copy of the book, just as we've been for decades, it's still marvelous to be able to absorb all this beauty online. As Cinephilia and Beyond tries to stay true to its main credo—sharing knowledge and instilling passion for cinema—nothing makes us happier than bringing The Illustrated Blade Runner to light [PDF]. (NOTE: For educational and research purposes only). Dive deep, absorb, enjoy. God knows it's been a long time coming.
HAMPTON FANCHER AND DAVID WEBB PEOPLES
Host Jeff Goldsmith interviews co-writers Hampton Fancher and David Webb Peoples about the 1982 sci-fi classic film Blade Runner.
Fancher: "I loved Ridley from the get-go. He was inspiring, he was awesome. You catch a virus from him and you can't stop."
Peoples: "I was coming in to do what Ridley wanted. He let me do a lot of things on my own, and that was fine, but really I was being brought on to move the script in the direction Ridley wanted."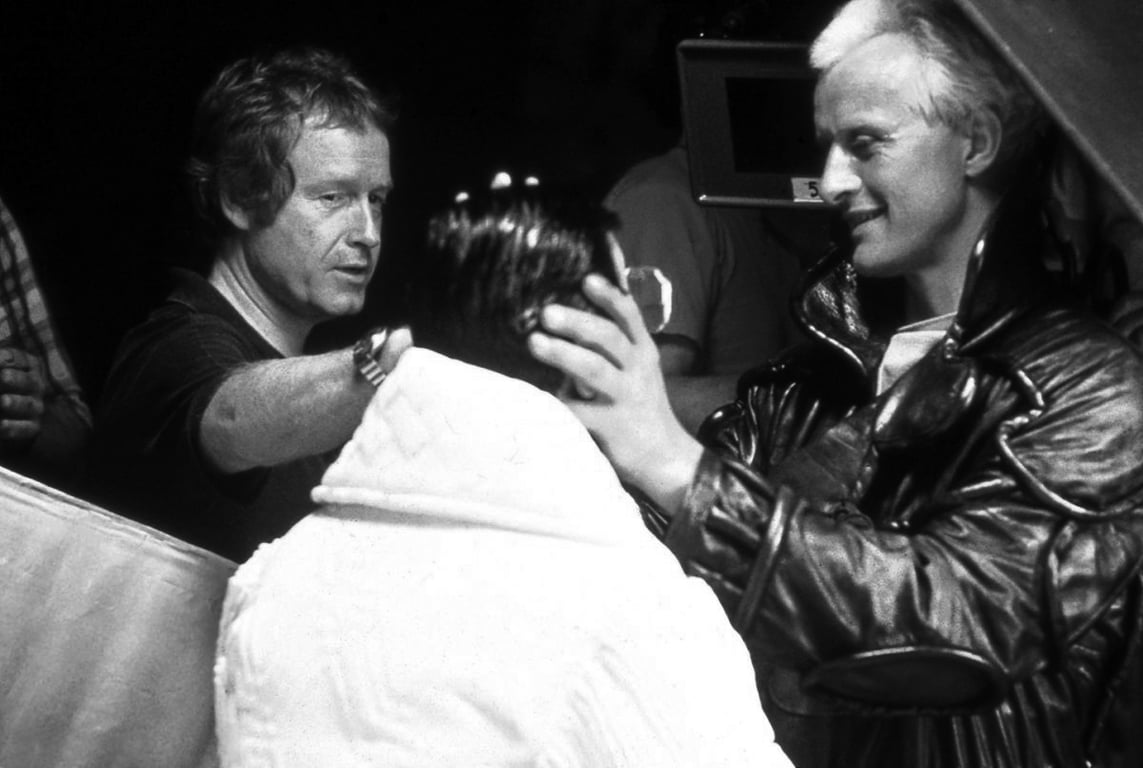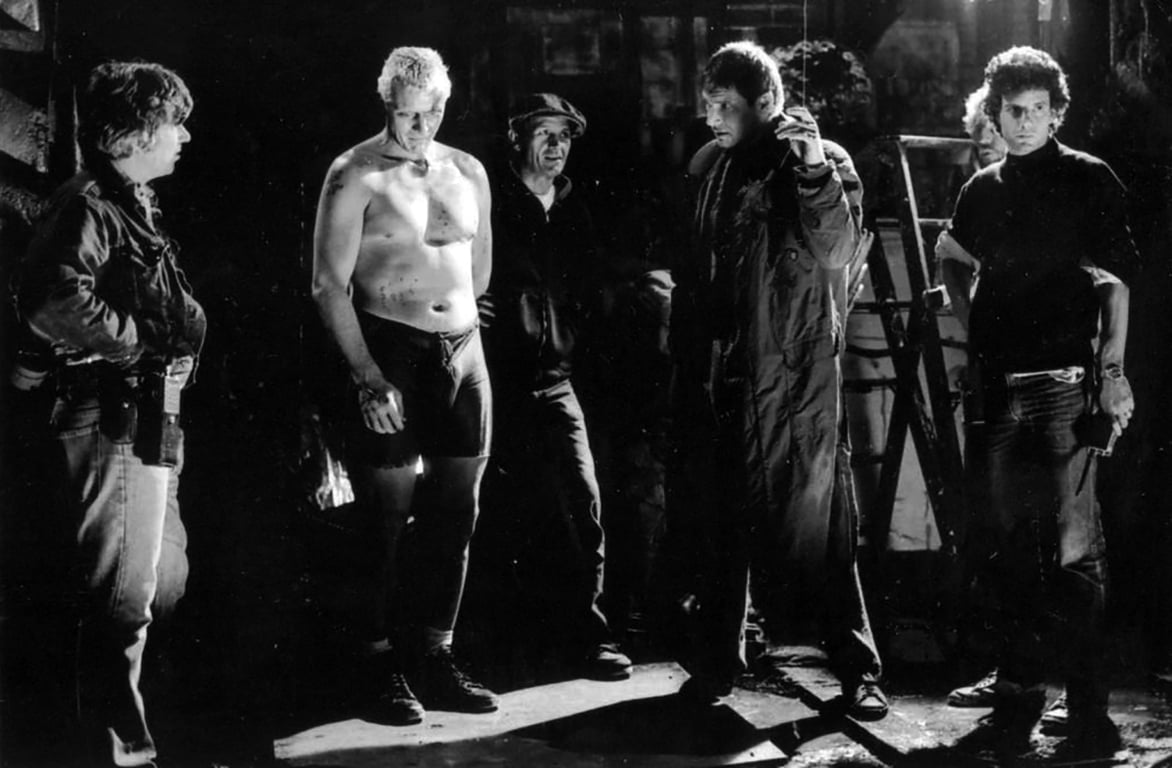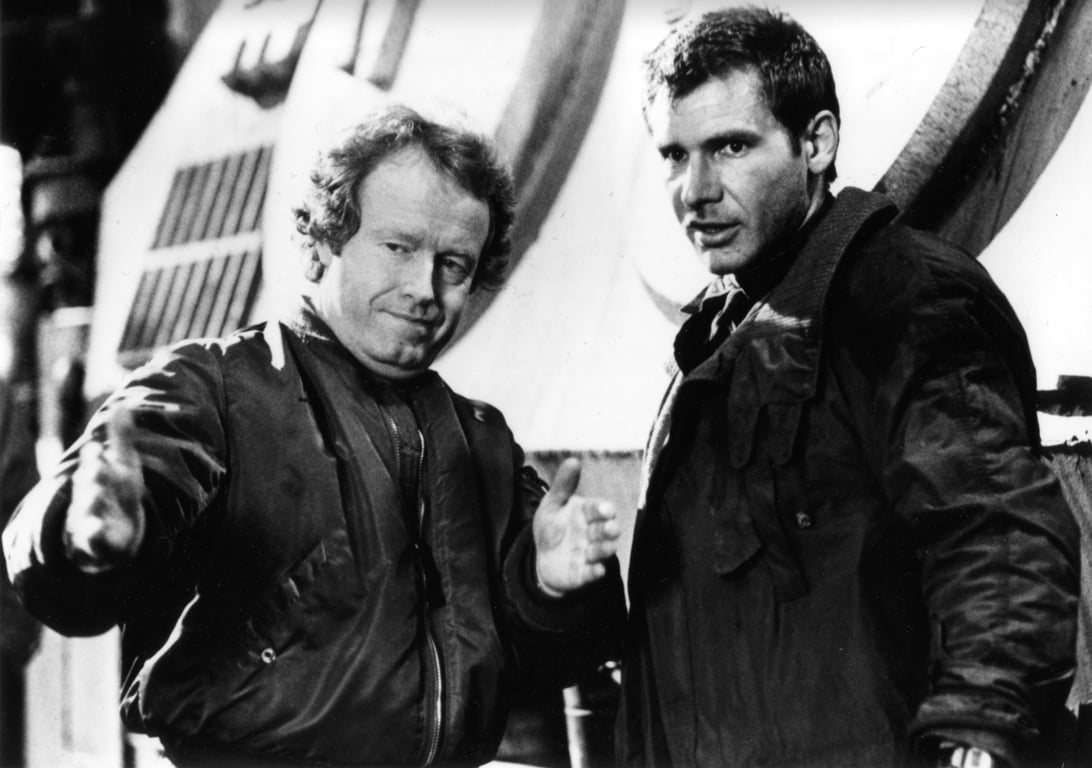 Peoples: "I didn't think for a minute that Deckard was a replicant… But as I read it several years later, it says Deckard is a replicant even if that wasn't what I meant. And I wonder if that was from me when Ridley finally said 'Ha, Deckard's a replicant!'"
Fancher: "It's a bit ambiguous, you know. I always say one thing, and I'm sick of saying it. When the cat's out of the bag, the cat's out of the bag. Let's leave the cat in the bag."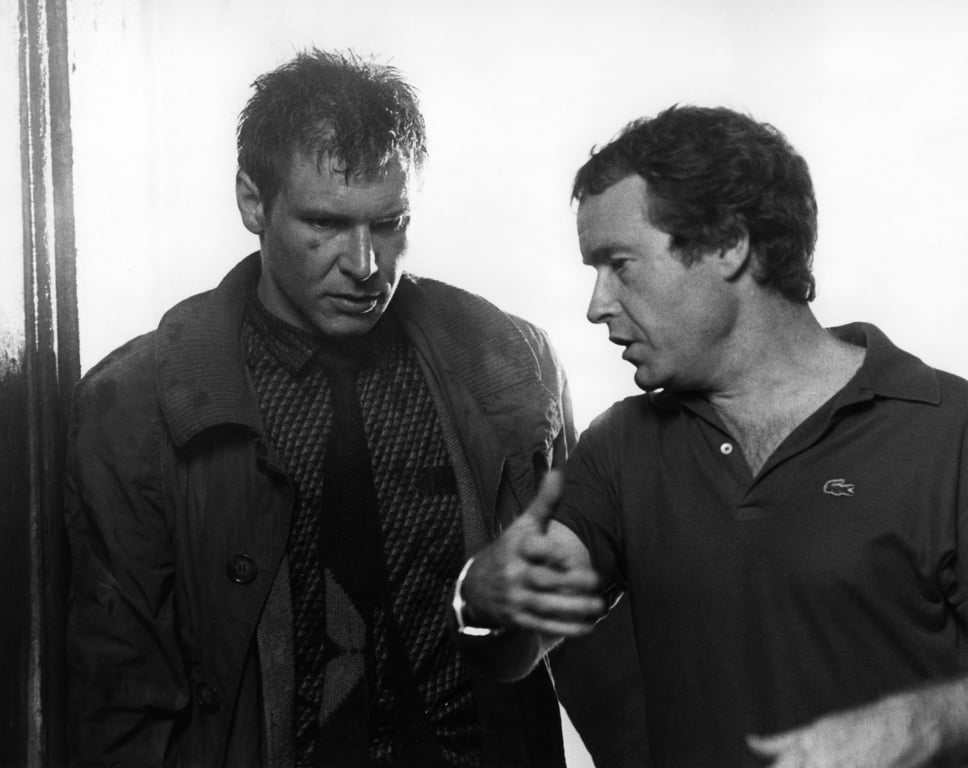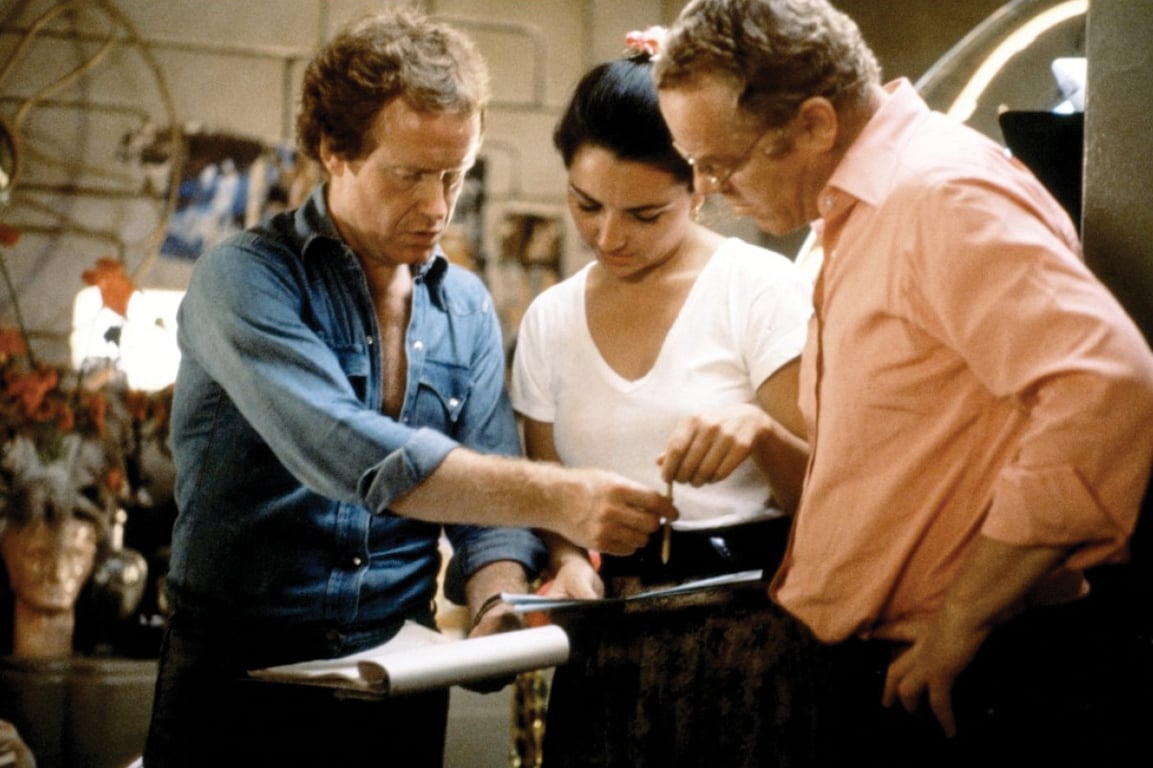 We go further behind the scenes to trace the development of the screenplay from the viewpoint of the two men who, independently of the other, made their contributions to its development. —Starlog Magazine Issue 058
The making of the original Blade Runner (1982). Go behind the scenes to see Ridley Scott's meticulous nature, Harrison Ford's experience on set, and more from the cast and crew.
Photographed by Stephen Vaughan © Warner Bros., The Ladd Company, Shaw Brothers, Ridley Scott Productions. The Illustrated Blade Runner @ The Blade Runner Partnership 1982, Blue Dolphin Enterprises, Inc. Intended for editorial use only. All material for educational and noncommercial purposes only.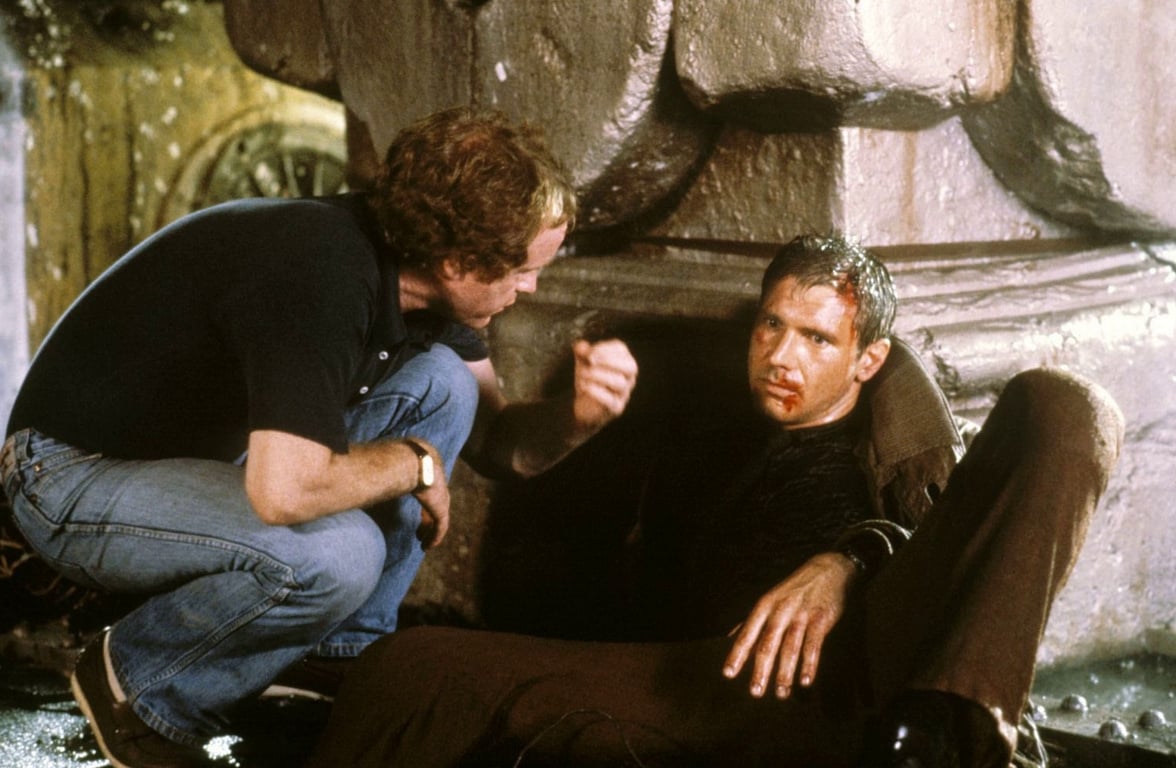 If you find Cinephilia & Beyond useful and inspiring, please consider making a small donation. Your generosity preserves film knowledge for future generations. To donate, please visit our donation page, or donate directly below: