January 26, 2023
I started reading and I stayed up till—I don't know what time in the morning it was—I thought this is really great writing. That was Richard LaGravenese's first ever script. He had written it on spec. I said, "I really like this, I like these characters, I understand what it's all about." That was the beginning of it. But I had to say, "Okay, I'm going to put my head in the lion's mouth." Because I swore I'd never work in Hollywood and so I did it: I broke all the rules I'd set myself and off we went. —Terry Gilliam
By Koraljka Suton

After the experience of filming The Adventures of Baron Munchausen, the third entry in his loose Trilogy of Imagination, Terry Gilliam had had enough. The 1988 fantasy film that went over budget, only to spectacularly flop at the box office and lose Columbia Pictures $38 million, left the filmmaker feeling drained and ready to call quits on moviemaking altogether. If he were to sit in the director's chair again, it would be for an intimate project that revolved around several people in a room—nothing nearly as ambitious, expensive or exhausting as Munchausen. Lucky for us, the proverbial towel did not need to be thrown in, because an intriguing screenplay soon came Gilliam's way. It was a spec script written by Richard LaGravenese, who has his wife to thank for urging him to look for prospective buyers. His big break eventually came in the form of producers Lynda Obst and Debra Hill—and they wanted the Monty Python alum to direct.
Even though the story did not take place in a single room, as Gilliam had envisioned, it did center on a handful of characters. And what characters they were, indeed. But before Parry and Jack, who would be brought to life on screen by Robin Williams and Jeff Bridges respectively, became the backbone of The Fisher King, they were the focal points of a few other drafts with different narratives, featuring supporting characters completely unlike the ones that wound up in the final screenplay. Despite going through several drafts with dissimilar plots, coming up with the right story was no easy task for LaGravenese. Finally crafting it not only enabled a truly touching film to be made, but also brought the writer a Best Original Screenplay nomination at the 1991 Academy Awards.
The inspiration for the direction LaGravenese would end up going in ultimately came from psychotherapist Robert Johnson's He: Understanding Masculine Psychology (1974), a collection of the author's lectures that deconstructs and analyzes the story of the Holy Grail through the lens of Jungian psychology. In uncovering the symbolism behind the legend and its heroes, Johnson provides a framework for the psychological development of the male archetype—and the masculine wound inherent in the Fisher King myth is one of many he expertly tackles. LaGravenese took one of the renditions of the tale, along with the themes of redemption and healing that permeate its core, and set it in contemporary New York City, where his two main characters take turns in embodying the mythical king and his hero's journey.
Jack Lucas (Bridges) works as a famous, self-absorbed radio announcer (a shock jock) who arrogantly goes about his job without paying any mind to the possible ramifications of his malicious words. While at the peak of stardom, his whole world comes crashing down due to Jack's dark and cynical rhetoric. Taking his advice to heart, a regular caller ends up committing a mass murder-suicide at a fancy Manhattan restaurant. Fast forward three years later, Jack is working at a video store owned by his (new) girlfriend Anne (Mercedes Ruehl, who won an Oscar for this role) and spending most of his time getting drunk. One night, on the brink of self-destruction, he gets attacked and almost burned alive, but is saved in the nick of time by Parry (Williams), a homeless man with a heart of gold and obvious mental health struggles.
As Jack finds out soon enough, Parry was a college professor by the name of Henry Sagan who ended up in a catatonic state after having witnessed his wife getting murdered right in front of him… at a fancy Manhattan restaurant. Plagued by horrifying visions of a Red Knight on horseback coming after him, Parry is obsessed with the story of the Fisher King and the quest for the Holy Grail:
"It begins with the King as a boy, having to spend the night alone in the forest to prove his courage so he can become King. Now while he's spending the night alone he's visited by a sacred vision. Out of the fire appears the Holy Grail, symbol of God's divine grace. And a voice said to the boy, "You shall be keeper of the Grail so that it may heal the hearts of men." But the boy was blinded by greater visions of a life filled with power and glory and beauty. And in this state of radical amazement he felt for a brief moment not like a boy, but invincible, like God, so he reached into the fire to take the Grail, and the Grail vanished, leaving him with his hand in the fire to be terribly wounded. Now as this boy grew older, his wound grew deeper. Until one day, life for him lost its reason. He had no faith in any man, not even himself. He couldn't love or feel loved. He was sick with experience. He began to die. One day a fool wandered into the castle and found the King alone. And being a fool, he was simple-minded, he didn't see a King. He only saw a man alone and in pain. And he asked the King, "What ails you, friend?" The King replied, "I'm thirsty. I need some water to cool my throat." So the fool took a cup from beside his bed, filled it with water and handed it to the King. As the King began to drink, he realized his wound was healed. He looked in his hands and there was the Holy Grail, that which he sought all of his life. And he turned to the fool and said with amazement, 'How can you find that which my brightest and bravest could not?' And the fool replied, 'I don't know. I only knew that you were thirsty.'"
And while Parry is convinced that Jack is the person who is meant to deliver the Holy Grail to him (a literal trophy belonging to a famous architect), which will, in turn, help him heal, Jack is plagued by enormous guilt due to having played a pivotal role in the death of Parry's wife. So as to alleviate his own suffering and clear his conscience, the former radio host decides to help his tormented acquaintance by setting him up with a woman he has a crush on, oblivious to the fact that that is not what Parry actually needs from him.
The wound that was inflicted on Parry is so deep a complex, that the only way his system could even begin to make sense of it was first by shutting down completely and then by creating a parallel perceptual reality in which another person stealing an object would help him regain wholeness. This same parallel perceptual reality also became home to a visual and auditory manifestation of the trauma survivor's pain, loss and grief (the Red Knight) trying to catch up with him, yearning for recognition, demanding to be faced. Because grief is our body's way of acknowledging the absence of that which was real, visceral and palpable to us, it grants us unlimited access to the depths of our own vulnerability—the us that can't accept; the us that rage; the us that beg; the us that yearn. But Parry very accurately senses that if he does let in the excruciating pain, rage and helplessness that make up grief, he will be swallowed whole by it, resulting in yet another system shutdown. Lacking proper support and understanding from the outside world, this vicious cycle becomes his body's way of attempting to process the horrifying trauma he had endured—and, in a sense, this re-traumatization turns into his roundabout way of grieving. The trauma he experienced, his complete loss of self that rendered him unable to function in 'the real world' and abide by mainstream society's rules, becomes his Fisher King wound. And Jack is the Fool he believes can help him reclaim his sense of self and become whole again.
Jack, on the other hand, has also experienced a fall from grace. Just like Parry, he has lost his old life and is struggling to fully inhabit his new one. But even though his circumstances changed, the former DJ's narcissism remained intact. He treats his girlfriend like yesterday's news, looks down on his customers and decides to give Parry the time of day only after realizing his own role in Parry's misfortune. The urge to lend a helping hand to his homeless savior stems not from altruism, but rather a need to rid himself of the shame that threatens to eat him alive. Parry is constantly telling him what it is he wants—but Jack does not listen and instead tries to help out in ways he himself deems sufficient and appropriate. And it seems to work—until it does not. For Jack to be able to truly redeem himself, he needs to perform a selfless act not for redemption's sake, but for the sake of another. It is only after he lets go of his self-concept and helps the King quench his thirst (while spontaneously performing another truly selfless act in the process) that he manages to complete his hero's journey from egotistic narcissism to true compassionate empathy. And he could not have done that were it not for Parry.
Gilliam brilliantly depicts his main characters shifting between the two roles and helping one another in the process of healing their respective wounds. And that process is one of connection. Connection is that which enables Jack to strip away the layers of his cynical, self-serving persona and experience how nurturing and expanding it can be to allow a fellow human being access to his core. Connection is that which allows Parry to be truly seen, heard, felt by another person and subsequently heal. By meeting Parry where he is at (the quest for the Grail), as opposed to where he thinks Parry should be (focusing on a new relationship), Jack affirms his friend's reality, thereby allowing him to properly grieve and abandon the protective mechanisms (delusions) that were keeping him safe from the overwhelming pain he previously did not have the capacity to contain. Of course, real-life trauma healing (especially when it comes to complex PTSD) is not as simple, neat or linear as The Fisher King seemingly makes it out to be, but that was never the film's intention to begin with. What the film does intend to do is provide us with a roadmap—one rooted in reality, but branching out to high heaven and touching on the mythical, mystical and symbolic, so as to help us make sense of the alchemic processes that take place in the human psyche when grief, pain, loss and trauma are counteracted with connection. Which, in turn, gives rise to ease, joy and hope. And if there were ever words to describe Gilliam's film, those words would be: full of hope.
Seeing as how this was the first Gilliam film that was not based on a script the director had written or co-written, he approached the shooting process with a lot of respect for LaGravenese's material, not wanting to botch the author's idea. He did, however, urge the screenwriter to put back the "weird" parts of the screenplay he had previously scratched out during the development process. LaGravenese also got the type of access to the production very few of his peers did—he was present at rehearsals and shoots and had the chance to collaborate with the actors. Still, there was one scene in his script that just did not transfer well to the screen, so the director could not help but go full Gilliam. Instead of filming a scene in which a homeless woman sings to a big group of people in the subway, the director envisioned Parry following the woman he desires (Amanda Plummer) through a huge waltzing crowd at Grand Central Terminal, and shot it in two or three nights with more than a thousand extras. Needless to say, it became one of the most memorable moments of The Fisher King.
When it came to casting decisions, Gilliam wanted to avoid making a movie about two "cute bums," as he told the Los Angeles Times in 1990, so after Williams got the role of Parry, he talked to him about who his counterpart should be. The filmmaker insisted on Jack not being played by "a funny man"—and the part went to Bridges. The two actors complemented each other perfectly, creating a special bond between the cynical and closed-off Jack and the tormented, (heart)broken Parry. As per usual, Williams (who got a Best Actor nod at the Academy Awards) was marvelous at improvising, but always made sure to check in and see if what he was doing was too far out. Not only was the actor a fantastic ad-libber, but he also went above and beyond in terms of emotional intensity. Gilliam talked about the scene in which the Red Knight chases Parry through the streets and how Williams was never satisfied, always wanting to do yet another take, constantly going deeper into the role and allowing the "state of madness" to engulf him, as he put it in a conversation with Vulture's Bilge Ebiri in 2014.
The filmmaker even recalled having to comfort and assure him that they would reshoot the whole thing if the result turned out inadequate: "But that's what was so extraordinary about him—how he would commit everything and more to what he had to do. That's also why I think his character in The Fisher King is in many ways the closest one to Robin, just that range—the madness, the damage, the pain, the sweetness, the outrageousness. That was the role I think that stretched him to the limits.", Gilliam said. Out of all the touching and fantastic roles the late actor so skillfully embodied, the part of Parry was indeed the one that showed us the vast depths Williams—the human being, the artist—was capable of accessing. And those depths contained both darkness and light.
Koraljka Suton is a member of the Croatian Society of Film Critics and has a master's degree in German and English. For her thesis, she did a comparative analysis of Spielberg's 'Band of Brothers' and 'The Pacific'. Koraljka trained at a Zagreb-based acting studio for six years and fell in love with Michael Chekhov and Lee Strasberg's acting techniques. She is also a contemporary dancer and a Reiki master who believes in the transformative quality of art. Read more »
"We sold the script in 1988 and we didn't make it until 1990, so there were two years there with studios and notes and things like that but when Terry came on I remember the first time I met him was at the Ritz Carlton in New York and we sat on the floor of his hotel room and he made me put back all my original tone and writing because the first studio was Disney. They wanted Jack to be toned down and not as mean. They wanted him more David Letterman and less Howard Stern. Terry put it all back and put a lot of the edgier stuff back in the script because he didn't want to make what he called the 'Frank Capra version.'" —Richard LaGravenese

A monumentally important screenplay and a screenwriter's must-read: Richard LaGravenese's screenplay for The Fisher King. [PDF1, PDF2] (NOTE: For educational and research purposes only). The DVD/Blu-ray of the film is available from the Criterion Collection and other online retailers. Our absolutely highest recommendation.
TERRY GILLIAM'S AUDIO COMMENTARY
If you listen to one single thing today, make sure it's Terry Gilliam's wonderful and fascinating scene-by-scene audio commentary for The Fisher King. To quote Robin Williams from a different picture, seize the day, guys.
Listen to The Fisher King Criterion Audio Commentary byDarkoMarko on hearthis.at

In case you're commuting to work and forgot your headphones, you can always check out Film School Rejects' recap—44 Things We Learned from Terry Gilliam's The Fisher King Commentary.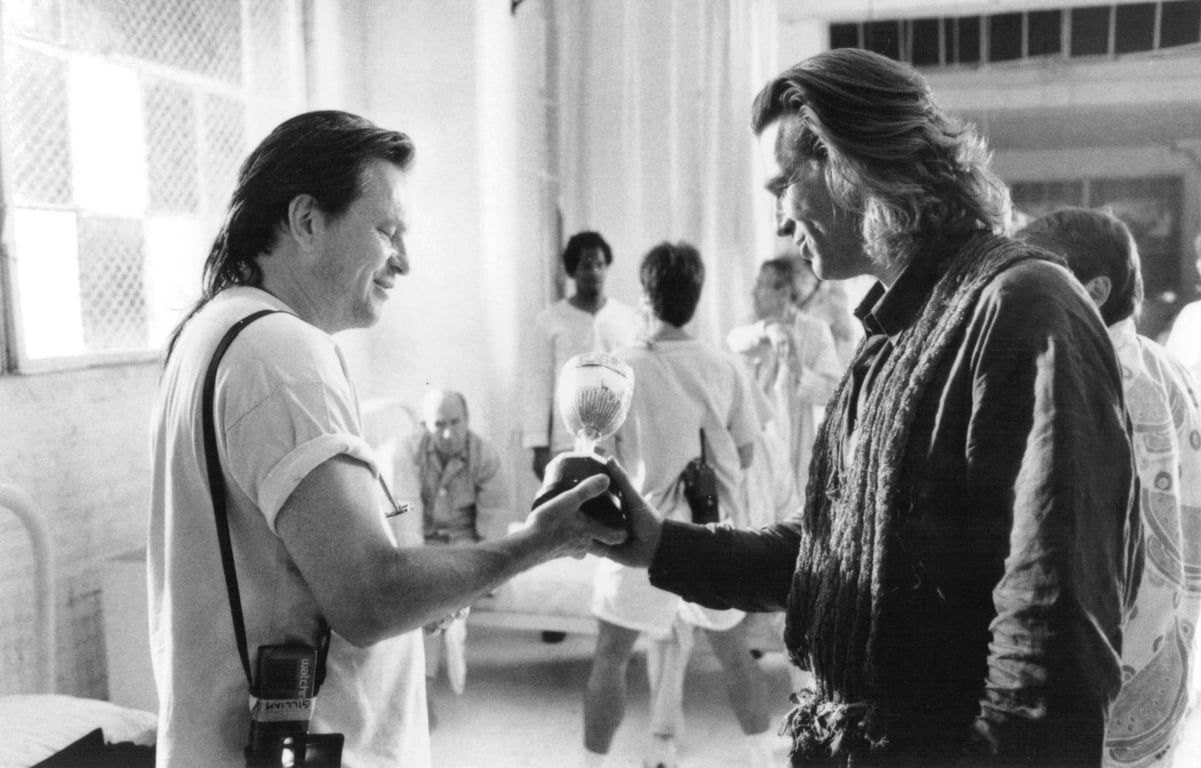 RICHARD LAGRAVENESE: I DIDN'T THINK ANYBODY WOULD MAKE IT

A wonderful interview with Richard LaGravenese by David Morgan. Copyright by David Morgan. For related articles on The Fisher King by David Morgan: The Terry Gilliam Files.
~ ~ ~
LaGravenese: I didn't think anybody would make it; I thought it would be either a writing sample or a very, very small independent kind of thing. And that Terry was interested really was a surprise and it sounds—I hate to be effusive because he doesn't like American effusiveness—but I'm so grateful I can't even form the words. He's creating a whole world here, and he's adding an edge to it, a visual edge that is so important because the script to me could have been so sentimental and icch! that it makes your teeth hurt, you know? And so, that's the part of it that I don't like, and that's the part of it that he just will solve, you know? I'm really, really happy about that, and I was so happy to get his influence and start working with him on rewrites and stuff because we put back a lot of the edge and the things that previous regimes had made me take out. So the first thing he did was make me put back everything that my first development process had made me take out, which was great. A lot of the odd stuff, the weird shit, you know. So I'm really happy, and grateful.
How did the story come about originally?
I wrote two other, three other drafts with the same two characters but completely different stories and completely different supporting characters. And all I knew was that I wanted to write a story about a narcissistic man who by the end of the film commits a completely selfless act. And I didn't have the story, and I couldn't figure it out. It took a while. And then I read the book 'He,' which is this Robert Johnson psychology book, where this Jungian psychologist takes the Fisher King myth and he parallels it to male psychology. It's a wonderful, wonderful book. He did a series—'He,' 'She,' 'We' and 'Ecstasy'; I haven't read the others, I just read 'He,' but it's a wonderful book—and that was very inspirational on finding the throughline for Jack a little bit more. Once I found out he was a DJ, then it sort of wrote itself. But finding the story was hard.
This is your first produced script, isn't it?
My first original, my own, yeah. I finished this and I didn't want to give it to anyone, I'm just going sort of keep it in my drawer. My wife made me send it out. And it was right in the middle of the writers' strike. So I like busted my butt for a year and a half, and then no one could buy it. That was a little frustrating.
What do you tell them, how critical have you been?
It really wasn't even about "critical." It was much more the feeling, and this is what Terry sets; he sets this tone and this energy of total space for everybody to share ideas and throw things in. But it's never criticism; it's more like exploration and finding things out, and 'That was better than that' and 'That was stronger than that.' It was like we were this whole unit, all of us, it was wonderful. I once asked Terry about the ideas from his crew and all that, all the people around him, and he says he feels that the director's main job is basically to field all these ideas that come in and to pick and choose.
He terms himself a filter of other people's ideas.
Absolutely. Even though he comes up with the most original.
So has this turned into a case of, it's unlike what you would have imagined yet it totally fits with how you might see this yourself?
It's everything I had hoped it could have been.
So having worked with Terry, someone who can take your text and make some very visual from it, how do you think it may be changing or expanding your writing? Is that expanding the sort of limitations you put on yourself, thinking that nothing is impossible?
Absolutely. Well, I've never looked at it this way before. You know, he'll look at a scene and he'll look at it as part of a sequence of several scenes where he sees sort of a universal tone, which I've never done before.
And he keeps reintroducing elements from earlier in the film.
That whole thing, exactly. And we've like cut things that maybe on their own were great but in context of this whole sequence just stuck out like a sore thumb. And I'm starting to see it more in those terms, and it's been a real valuable lesson.
Having been able to filter the script through Terry, have you been able to add things to it further?
Hmm, let's see… A lot of it came out of rehearsals, like the Fisher King monologue has gone through many, many transformations.
Where Robin explains the myth to Jeff Bridges?
Yes. And I'm still in the process of molding, we're supposed to film it on Friday, and I've gone through a few drafts with that now and I've really been taking Terry's lead on that. Because right now what it turned out to be was more like an explanation of the title, and as Terry said it should really be suddenly he just tells the story, so it's now trying to make it sound just like a story—
By the fireside—
Exactly, and then tying it in to all the layers. I mean I didn't know, he just brought out a lot more layers and connections that I had never seen before. Like at the end of the film, Carmichael the old man who's sitting there is also The Fisher King. And at that moment Jack is his Fool. It just starts to unravel and all these other things that I had never meant to be, he saw. The monologue is a big thing. And of course with Robin and Jeff a lot of ideas come out.
During shooting, is Robin improvising a lot or is he staying to what has been written?
He comes up with a few ideas, and he tries them out. And he'll do like, you know, a simple version and he'll do a more exploratory version. But he always checks, and he always come up, 'Is that too much?' 'Is that in keeping with what we all see this is about? Is it getting too far out?' He's really, really conscious of it. He's not irresponsible about it at all. He's just being wonderful. And of course he's coming up with a lot of great lines that the script really needed. I mean, we shot something last week which was always the hardest scene for me, which was his entrance. I could just never come up with bizarre, funny enough stuff, and so I laid the groundwork and then he came up with all these great lines and now we saw the dailies and it's just a question of picking and choosing.
They're shooting the climb tonight, which Jeff had a great idea for, for as he's climbing. You know how when Popeye's doing something and he sort of doesn't like it he grumbles? It's like grumbling and every once in a while a word pops out? He wants to do this sort of mumbling monologue kind of thing which is a really funny idea. He comes up with a lot of wonderful things.
In the script it has, "Why am I even doing this?"
Exactly. It was more linear. So coming up with something a little more—that's something I'm learning, to be a little less linear.
Well, the script is pretty linear; there's not a lot of fat on it. It's very straightforward.
Right. Thanks. I have a tendency to go on a bit! I have that insecurity that people aren't getting what I mean, you know? So I'm learning that—it's a cliche that less is more, but it really, really is. I mean I'm on the set and I'm the first one wanting to cut the dialogue, because you don't need as much, you really don't. I based Mercedes [Ruehl]'s character, Anne, on a woman that I know on Second Avenue who runs a video store, and Michael Jeter came into the auditions and read the script and said, 'Oh, I know this woman, this is Annette! She's on Second Avenue!' He just got it right away. Weird things like this.
Does Annette know about this?
Yes! I've been telling her all along. She's a wonderful woman. We lived in that neighborhood. I used to come into her to rent a video and she'd be like, 'Darling, how are you?' Like I was her son. It was so funny, a wonderful woman.
Did you have in-depth conversations with the actors about their characters?
I had dinner with Jeff about a week before we had rehearsals and we were there for hours going over the whole pile of script, page by page. He's very good like that, very methodical when he goes over everything, and any questions he had. It's a real honor, I can't even describe it, it's been such a honor to do that.
Where he created a history for this character, how he would get to this stage, why he would do these things?
What happened in the interim between the First Act and later, exactly what he's been doing. Back up the story even on little bits here and there.
I like how things were so tied up, like the fact that he was up for this TV show, he didn't get it, and then he gets to gloat over the fact that the guy who did get it is arrested in a men's room. There is justice in the world!
Of course, there is order in the universe. I believe that!
Have you become more interested in the technical area, cinematography, editing?
I just listen. I don't understand a word they say, but I love to listen and try to figure out what they're doing. I have no understanding about lenses and things like that.
Now Anne was inspired by somebody you know. Was Perry inspired by anybody you know in particular?
It's actually, this whole thing started when I went to the movies one night alone, and I saw this couple, this sort of retarded man and this very nice looking guy together, and I started, that really set something off.
What brought them together?
I don't know, they were just walking, and they seemed very close, and that touched me. And then I wrote, and I started writing, and then I heard about Rain Man and I found out that what I had been writing was almost exactly like Rain Man so I threw all of it out and started over. That's how the evolution began. It's funny how you can have an idea, and somewhere across the planet someone has the same exact fucking idea! It's so infuriating, that cosmic consciousness thing! —Richard LaGravenese by David Morgan
In his talk with Creative Screenwriting's Christopher McKittrick, Richard LaGravenese dives deep into his motivation for creating the story of The Fisher King. Disillusioned by the predominant cynicism, narcissism and selfishness of the 1980s, he wanted to write a story that radiated sacrifice and redemption. The Fisher King was his answer to the decade's shallow sense of entitlement.
~ ~ ~
"Things were surreal and changing in ways that were terrible, and then the AIDS crisis happened. Being a teenager of the Seventies, where you were sort of carrying the burden of all the failed revolutions that happened in the Sixties, the Seventies kind of became this neurotic "me time" and then the Eighties felt as if everybody went, 'Okay, fuck it, let's just make a lot of money and do blow.' It was a yuppie generation and all very narcissistic.
I thought the humor and the culture became very mean and cynical as a reflection of it. I had this theory that when Saturday Night Live happened I don't know if people realized the historical and cultural effect it had on all of us because post-Vietnam and the Nixon resignation we all felt this tremendous shame, especially as a teenager when you're battling with that stuff anyway and trying to find your identity. Then Saturday Night Live came out and made fun of it, and it was all this sort of national relaxation where we all thought, 'Wow, we can make fun of this.' It was wonderful. But then making fun of it sort of snowballed into the Eighties where it felt like everything was being made fun of and cynicism was so pronounced that you couldn't really have dreams or beliefs in a way while people were fighting for their lives with this virus that was happening.
It felt like a very ugly decade, so I wanted to do something about narcissism and sacrifice, which I felt as a word and a concept was growing fainter and fainter in our culture as we were getting closer and closer to a world that kept telling us 'You can have it all,' which I think is a tremendous and destructive lie. A lot of generations really don't understand the value and extraordinary experience of sacrifice and how much you gain through sacrifice. People hear the word 'sacrifice' and they immediately think not getting something or losing something they want. That's not really what sacrifice is. I was always moved by stories where a character sacrifices for another, right back to A Tale of Two Cities." —Richard LaGravenese
Terry Gilliam discusses bringing a myth to life in New York City. Published in Millimeter Magazine by David Morgan, March 1991. Copyright by David Morgan. For related articles and eye-opening conversations with the visionary director, as well as behind-the-scenes stories documenting his films' production: The Terry Gilliam Files.
~ ~ ~
When we last spoke near the completion of shooting Baron Munchausen, I asked what you had to look forward to. After contemplating suicide, you said you wanted to do something small, perhaps a film with a couple of people in a room, and that's it. And now you seem to have gotten your wish—although you haven't gotten to the room just yet.
The room's always still in the future, yes. I really ran out of steam after Munchausen. I think I had reached the point where I was ready to pack in filmmaking, I just was terrified of the whole process. Then my agent had sent The Fisher King along. He said, 'It's a really interesting bit of writing.' And after the first couple of pages I thought, Jesus this is terrific. It looked really simple. With all the attitudes, the characters, I just simply understood [the piece]. Like this medieval element, which is a strange thing because I think it could have been done totally mundane.
But you've opened up whatever subtext the writer himself may have been unaware of, but which seems totally truthful.
At some point, I said that I thought that Richard didn't really appreciate or understand the totality of what he had written, of all his themes. But he did, on an instinctive, subconscious level. But I sort of pushed it. I've just pushed everything further.
Do you feel more secure in pushing it because it's not your own material? Like you're testing to see how far you can stretch it?
No, actually I feel that I'm trying to be terribly responsible and loyal to the script. I said to Richard, 'You know, all I can do now is fuck it up for you.' I don't want to do anything [he] wouldn't have wanted. And it's that kind of responsibility that is something I've never experienced. It's really weird; I don't like feeling that I could make a mess of somebody else's idea, and the first couple of weeks I was feeling maybe that's what I was doing. But we're getting on somehow.
How is the film meeting your expectations?
My expectations were really just to have an easy time. And I failed at it. I really just wanted to do something very simple and I find that I can't. No matter how hard I try, to simplify it and do it direct, I elaborate it somewhere, and put the camera in a funny position, make it more of this or more of that.
Yet your elaborations are not taking the story away from what it really is?
I hope not; I mean we'll find that out when I stick it all together.
Is it progressing in terms of the story that, as Jack becomes totally drawn into Parry's world, effectively becoming Parry, the film gets more and more skewed towards that point of view, where it doesn't show New York for what it is but as Parry himself sees it?
That's what I've been trying from the beginning; the minute Jack steps out of the protective confines of his girlfriend's video store, it goes pretty weird very quickly. It's like in the Parsifal myth: as a boy he sees the grail, but when he gets to the grail castle, he doesn't do the right thing. There's a clarity of vision when you're young and then you lose it as you go on, and then you find it at the end hopefully; that's what making the film is like. It was really clear in my mind early on, and now that I'm into it I've lost it, so I'm stumbling through the forest blind at the moment. I'm doing a lot of it by instinct. It's true, that actually is what happens. I'm on auto-pilot right now.
And where are your instincts taking you?
I don't know. We'll find out. I mean, what you do is you make a lot of decisions early on, and set a lot of things in motion, but what happens is then other things start affecting those things you started out with; your original plan is maybe not corrupted but confused by reality. And that's where we're at now. I go stumbling on blindly, and everybody says it's terrific, so I trust that it seems to be working.
You've worked before with a couple of members of the crew, but most are not experienced to working with you—a situation similar to that of Munchausen. How are they (and you) getting used to it? And are you getting back into the drive of being able to shoot and work very quickly?
Not yet. Not the first couple of weeks. It's going rather slowly. The team is coming together. It's a strange situation; to save money they ended up splitting the show between New York and L.A., which ends up that all of the team doesn't play all of the way through the film. I haven't seen what the results of that are going to be yet. And I don't like it because I've never done that before; I mean, you get a team and you go. The key people stay with it, but some of the lesser characters don't, and I'm worried to see about that; I don't know what's going to happen. What I wanted to do was fight my fantastical side, and I wanted people who were really well-grounded in New York. Like Mel Bourne, the designer: he's done Woody Allen films, he knows the nuts and bolts of New York, and that's why I wanted to work with someone who grounded the thing.
You're bringing out a lot of the medieval elements in New York: locations, the design of costumes, the character of the Red Knight, the castle serving as the millionaire's townhouse. Are you finding other elements of New York to put in?
Not enough. I mean, they're there but we're not getting them on film. One of the most frustrating parts about this is that all my ideas of gargoyles and bits and pieces—it's all around, it's really easy [to find] in New York, there's "tons" of it—we lose it; we can't go to enough places and shoot enough things quickly.
Can a second unit do that while you're in L.A.?
Uh, I'd want to do it myself. We'll see what happens. I mean the film's not over until it's over. I might be back with a tiny group and get a few goodies. We shot under the Manhattan Bridge, at the base of that bridge, and it's—well, it's actually not medieval-looking but it's sort of somewhere between Piranesi and Goya. So it certainly doesn't look like New York as we [usually] see it. At an entrance to the side of the bridge there's a great arch, which we use as Jack's passage into Parry's underworld. "Abandon all hope ye who enter here" is what it should have over it. We were getting very worried that some of the stuff that we were doing is a bit zany. And we keep trying to insert ugliness in it, and a certain brutality. At times the thing is like Alice in Wonderland and Dante and Virgil, it's all these things. There's a statue of Dante right outside my hotel. I can see him when I look out my window, in a little square right opposite Lincoln Center—there stands Dante.
Is that an omen of some kind?
Of course!
Are you buffered from the studio by the producers?
Yeah, they seem to be very supportive. I can't complain at all. I wish I could. But I can't. The important thing is that what they're seeing has impressed them and they like it, and that's the proof really. I mean, they were very nice at the beginning; I think they were very wary because of the Munchausen debacle.
What did you learn from that?
What, Munchausen? Not to make Baron Munchausen again. I learned not to work with a particular producer again. No specific things, there's no grand wisdom that's acquired by that. You've just got to be more careful. But on the other hand, if we had been more careful we wouldn't even have started the process, and there's a film there at the end of it, which is important. So you can't really say [the experience] was bad because if we had been more reasonable and careful and intelligent we wouldn't have gotten the thing off the ground. [On this picture] we've had certain problems in the first couple of weeks, it's just been really rough here; New York is impossible to work here, and we've, uh, slipped a bit. I began to think, 'Oh it's Munchausen all over again.'
But you also have a much tighter budget this time, whereas Munchausen started off with a blank check.
No, it didn't. Starting off it was very carefully budgeted except totally unrealistically. The figures didn't match the reality of what we were doing.
Is this budget realistic even though it is tight?
It better be. I don't know. I am slightly at a disadvantage having never worked here, I don't know what the money buys, but we've gone through it and it seems to be right. To be fair they, meaning Debra and Lynda, have not produced a film as ambitious as mine normally are. And I think it's hard for people; they don't seem to understand what it means when I say 'I want something like this. Even I don't; that's one of the reasons I ask for it. But a certain naivete makes you think you can do it and if you think you can do it, you have a go. The last couple of days were very silly where we're doing a close-up of Jeff in front of Carmichael's townhouse, against those stairs which were built in California, with all of Madison Avenue behind us, with buses. The noise is unbearable, it's ruining sound takes, and I'm shooting stuff like that. And I used to laugh at people who did things like that, it's ridiculous; you could do that close-up in L.A.—just bring the wall back. But we end up doing it because everybody's fired up, you've got to do it. Yesterday we did [close-ups] with the Knight on Fifth Avenue, and what you see on film, I'm not sure if you know it's Fifth Avenue, which is very, very bad. But it's to do with the fact that you get away with it, is why you do it. [The Manhattan Bridge location] again is a silly thing. We just stood here and said, 'Oh wouldn't that look nice as a background?' Well what is involved in making it a background is crazy, and for somebody to say 'You can't do that' would have saved us a lot of trouble; you could have done this scene just on a corner somewhere, but nobody said 'no,' so here we are. This little idea came up, I was watching rush hour traffic in Grand Central. There's a scene that took place at rush hour, and I thought, 'Wouldn't it be great if all these people suddenly started waltzing?'
And people took you seriously.
[shrugs] Nobody said no.
Are you expecting that one day somebody will come in and say 'No'? Because on Munchausen, nobody told you 'No' until it was too late to do anything about it.
Way out of control, yeah. The problem is the ideas seem to capture people, and everybody—not just me but everybody else—falls victim to these things. It's weird; ideas do this. Then you discover, it isn't just the waltzing; the pictures have got to look right. Then I want the lights in a certain way. It's all the details. That is the difference in shooting it with bad lighting and shooting it with good lighting; good lighting costs more money. What's interesting, when you work with good people, it doesn't really come out cheaper because their demands are greater. Really good people are full of ideas and they work to a higher standard. And you pay for it; it costs money. It doesn't come really cheap.
How is your working relationship with the department heads you've not worked with before?
The interesting thing with films is that the pattern is very quickly established. And because everybody knows that I'm involved in the design of everything on my films, when they walk in they know they're going to be involved with me. I stick my nose in much more than a lot of other directors might.
So you're not frightening them away?
No, I don't think so. Good people, at least most of the ones I can think of, really like input. My problem is that I just have pretty clear ideas about a lot of things. And until I sort of get them I don't let up. But there's no way that I can credit myself for all this stuff. Like with the costumes for Jeff's character: I wanted Versacci clothes because I wanted the most expensive, sleekest stuff at the beginning. Jack's a guy who's really a product of America's materialism, all style and fashion—the best, slick, cool. But everything is monochromatic with him; there's blacks and greys, no color. And I like the idea of trashing his Versacci clothes when he becomes a bum, which is really silly when you're paying two thousand dollars for a suit and you're trashing it.
Jack's lost his job, he's lost his home, but he doesn't want to give up his clothes so he wears them into the ground.
Uh-hmm. I also like the idea of seeing these very expensive clothes look like shit. It's been slightly harder on costumes for me because they're contemporary things and I don't have any great feeling [for them], and so Beatrix Pasztor and I would just spend a lot of time together, and Jeff is very full of ideas. Everyone's got ideas, that's what's nice about it, and I just become the guy who sort of guides it through and says 'I like that' and 'I don't like that.' Basically Jeff's costumes are Jeff, Beatrix and I sitting in a room for hours on end, all shifting around. Robin, the same thing: Parry had to have this medieval aspect, and what's nice is that it's all real modern stuff. With that cape and that poncho and hat, he really comes out of a Bruegel painting. And underneath it he's got this bit of gold lame, looks like some golden fleece or a bit of chain mail. And all that's been good fun, to try and assemble what is believable and yet has this total medieval quality to it. It's nice working like that. You know, I think a lot of directors just don't do any of that stuff. They just hire the costume people, the costume people say, 'Bum bum bum, this is how we're gonna do it,' the financing's all right and that's the end of it. I just think that takes the fun out of it. It's always like doing a painting. You just want to have all the parts the way you'd like them in a painting. I mean, on this one, I'm paying much less attention to background than I normally do because it doesn't seem to be what this film is about.
This isn't a case where there's always something going on very deep in the frame?
No, I'm not doing that on this one, I'm just tired of looking back there any more. I don't want to lose the characters in that sort of deep photography; I want to keep them in the center. I hope I pull it off.
Are you finding that here, among the crew, you can be the team player you've been before, as opposed to being thrust into the position of "Director-God" as you were by the Italian crew of Munchausen?
Yeah, I'm very much a team player, but because people don't know me they don't say 'No' early enough; they don't say 'Wait, hold on a minute, are you serious about that?' or 'Have you considered maybe there's another way of doing it?' One of the problems here is that they seem to respect me too much. The people I'm working with like the films I've done, and they think I know what I'm doing. In England people are much better about saying, 'Well, why do you want that? Do you really need that? Hold on a minute, wait wait wait, let's talk this through.'
There are no Devil's Advocates in America?
Not as many as there are in England. I think that's why I was lucky to have ended up in England, because they're less impressed. Here people really are excited about films. And they do love this thing about Terry wants something! so then everybody runs to make it happen. And they don't always think, 'Is that an intelligent thing he was asking for?' And that's the problem of getting older and making more films, too—'The guy clearly knows what he's doing; we've seen these films, and are impressed with them.' The fact is, he doesn't know as clearly as they think he knows what he's doing. I think I've got to go back and do one in England where people know me better; because people learn as they go along but it's all too late, they've got involved with it. So many people are trying so hard to get themselves nervous on this film. I keep trying to convince myself that it's still a little film. This isn't a difficult film really, but because they've seen Brazil and Munchausen they want to work on something like that. And when I say, 'No, we really just need that little thing,' they don't really believe it.
Are the people on this film trying to make this like Brazil and Munchausen when it's not?
Well at times it feels like that; I mean, I keep telling people it's… I don't know. I've given up trying to understand anything! —Terry Gilliam, Millimeter Magazine, March 1991
A LOOK BACK AT THE GRAND CENTRAL STATION WALTZ
"The original scene was just a homeless woman singing in Grand Central Station and Jeff Bridges' character stopped whatever he was doing and was captivated. I looked out over the Grand Central Station concourse and thought, 'All these people in the rush hour are moving faster and faster, trapped in their own worlds—wouldn't it be wonderful if they looked at the person they were passing and fell in love and started dancing?' We had one night there. That was all that they would allow us, and we weren't able to start until 11:00, when the trains had stopped, and we had to be out of there at 5:30 in the morning. We had 1,000 people there, and we had gone to all the dance schools in Manhattan and said that we needed people who could waltz. And that's apparently who arrived: the people who could waltz. And now comes 11:00, and we're ready to start work. And we make that horrible discovery that most of them couldn't waltz. We'd been lied to, we'd been cheated! We had a number of choreographers for assistance. What we had to do was just stop: We broke into five groups of dancers. One of the choreographers took each group. We then spent several hours teaching them to waltz. I think it was about 2:30 or 3:00 in the morning where I finally just started screaming and said, 'This is it! We just have to shoot! There's no more time to teach.' And that's what we did. We just shot like mad for two hours. We got enough dancing.

And now it's 5:00, we were finished. At that point, real commuters are arriving. A lot of our extras had to go. And by now, we're pushing all the members of the crew into the shot of Robin looking lost among the commuters. And we just pushed our luck. I mean, we shot past the time we were supposed to be done by at least a half hour, probably 45 minutes. It was madness. Then, at the end of all that, when I came to look at the top shots, I said, 'It doesn't look crowded enough.' So what I did was take two different takes of waltzers and superimpose them over the other. Makes it double the number of people. They're basically transparent. And that's what's interesting. 'How clever, how magical that looks,' someone must have said. It was just desperation!" —Terry Gilliam
ROGER PRATT—AN ICON OF CINEMATOGRAPHY
British cinematographer and Academy Award nominee Roger Pratt, BSC, has carved out a magnificent career during which he collaborated with the likes of filmmakers such as Terry Gilliam, Richard Attenborough, Mike Leigh, Neil Jordan, Tim Burton and many others. A graduate of London Film School, Pratt established himself as one of the most distinguished cinematographers in the game today, while his work on movies like Brazil, The Fisher King, Batman, 12 Monkeys and The End of the Affair stand out as stunning visual achievements many generations tried to emulate. As an artist and craftsman, Pratt succeeded in elevating pictures on both sides of the filmmaking spectre, as he worked on numerous big-budget mainstream productions as well as more intimate, art-oriented endeavors.
Check out this great interview Roger Pratt gave at the 15th Raindance Film Festival back in October 2007 in London.
In January 2019, BAFTA hosted a special tribute to Roger Pratt to pay respects to his immeasurable contribution to the world of cinema. "From jaw-dropping gothic visuals to epic vistas and subtle character plays, Pratt's incredible filmography demonstrates an enviable mix of the classic with the contemporary." —BAFTA

British Society of Cinematographers released a wonderful Behind the Camera segment with Roger Pratt. Well worth your time!
Terry Gilliam breaks down a particularly hard night with Robin Williams on The Fisher King.
"This scene wasn't a challenge to shoot as far as effects are concerned, but it was very hard from an acting point of view, because Robin was tearing his guts out emotionally. The interesting thing about Robin in all of those scenes was that he always wanted to do another take. He felt he had even more anguish and pain to spill out of the character. And I had to really stop him. I had to say, 'Robin, you've reached a point here, way beyond what we expected. We've got what we needed. Now you're just hurting yourself.'
That happened a couple of times while we were shooting this scene. The most worrisome moment for me was after he's been chased by the Red Knight, when he's running through the streets, and then he comes to the river, where the teenage punks arrive and knife him. We had to do other things on that night shoot, too, and things were going very slowly. Suddenly, we realized that we had like an hour until the dawn [would arrive].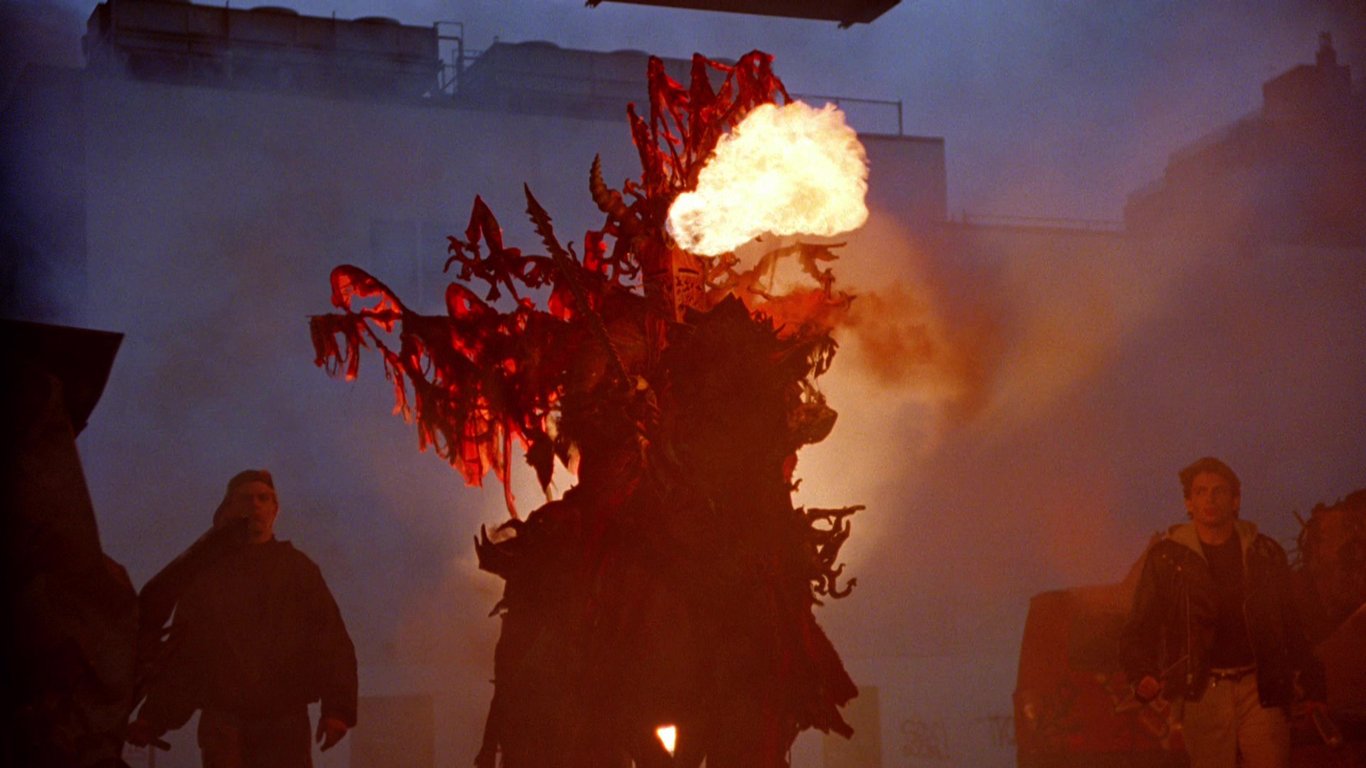 The last shot we had to do was Robin running at the end of this scene, in this hysterical state. You can even see the light ever so slightly beginning to come on the river in the background. But Robin was so angry because it was such a crucial moment, and he felt he'd been cheated of his ability to really give this moment his all. And Robin was an incredibly strong guy: When he'd worked himself into this state of madness for the part, nobody could approach him. The first assistant, the stunt guy… nobody wanted to get near him. They were terrified.
So, I had to go up there and tell him, 'Robin, what we have here is very good. And if we look at the rushes and it isn't, I promise you I will reshoot it.' And I had to hug him basically, and hold him. I could feel these muscles that were so tense and so strong, they felt like they could easily rip my head off.
But that's what was so extraordinary about him—how he would commit everything and more to what he had to do. That's also why I think his character in The Fisher King is in many ways the closest one to Robin, just that range—the madness, the damage, the pain, the sweetness, the outrageousness. That was the role I think that stretched him to the limits." —Terry Gilliam
'THE FISHER KING' AS A GREAT MONUMENT TO ROBIN WILLIAMS
As Criterion released a much-anticipated version of The Fisher King, IndieWire had a great conversation with Gilliam not only about the film itself, but also about working with Robin Williams. Gilliam didn't look forward to watching the film again as it was very soon upon Williams' death, but he was ultimately glad he did, as he considered the movie to be "a great monument to Robin." It's also very interesting how Gilliam portrays Jeff Bridges as their anchor—a man who'd remain dedicated to the script and the nature of its characters, and would therefore rein in both Williams and Gilliam's tendency to go wild creatively. —IndieWire

A short interview with Robin Williams by Jimmy Carter which exhibits what a kind and gentle soul the late actor truly was.
JEFF BRIDGES REMEMBERS ROBIN WILLIAMS
"I was sitting there with my wife trying to gather myself, and I look out the window and I see—is that Robin? Is that his ghost? No, it's Radioman! It brought back all these wonderful feelings of what an amazing time [Robin and I] had together in New York, shooting The Fisher King. I got out of the car and embraced Radioman, and looked in his face. I remember when we were shooting The Fisher King, Radioman—he knows where all the movies are shot, I don't know how he magically does that—I remember us seeing Radioman, and we could not believe that Robin's character was there with us, in reality. There he was!

[This morning] I looked out my window to Central Park, I remembered the last scene of me and Robin out there at 4 o'clock in the morning, nude. Naked! And Robin was just wild and free… He was rubbing his butt on the grass and he says, 'Do you know why dogs do this? Because they can!' He was so wild! I just had to share that with you… how much I miss him, as I'm sure you guys do, too. What a gift he was, to all of us." —Jeff Bridges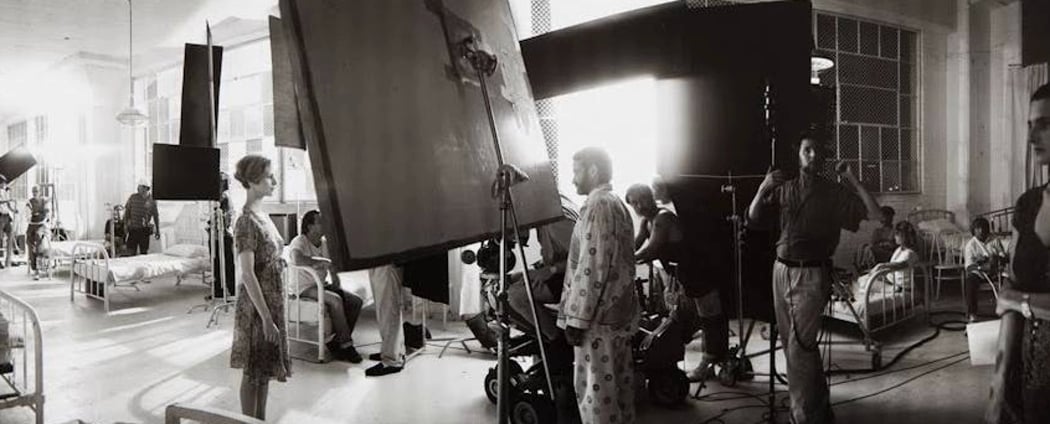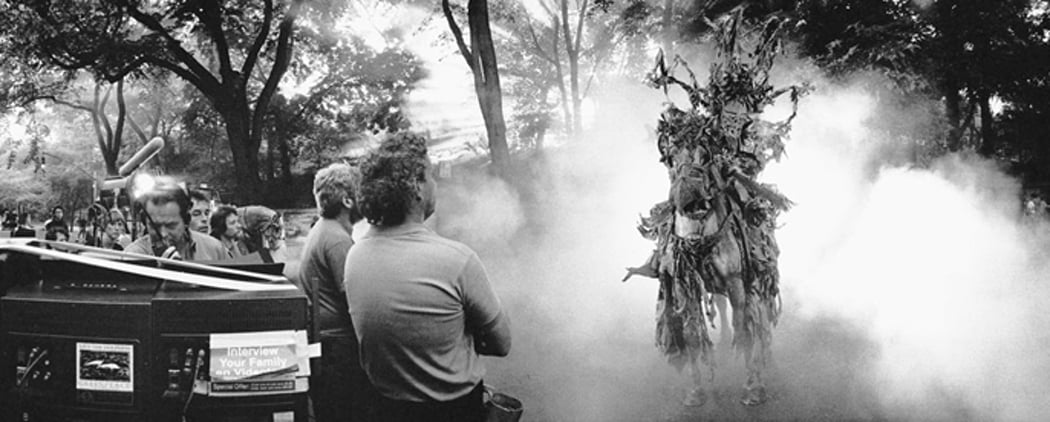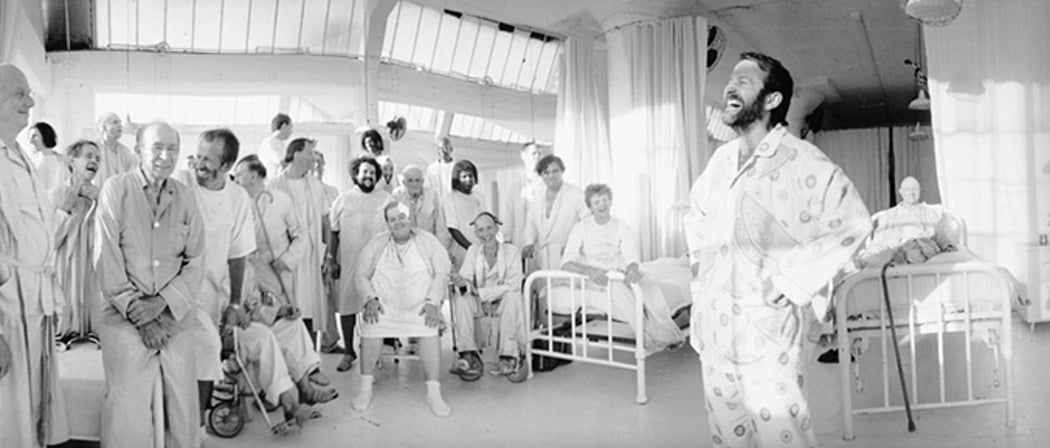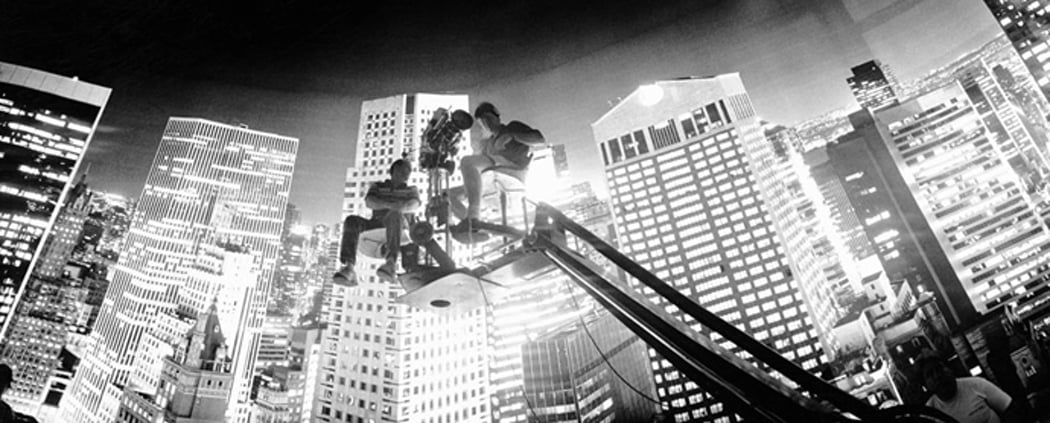 Here are several photos taken behind-the-scenes during production of Terry Gilliam's The Fisher King. Photographed by John Clifford, Stephen Vaughan & Jeff Bridges © Columbia Pictures Corporation, TriStar Pictures. Courtesy of Gracenote, Jeff Bridges: Set Shots, Everett Collection. Intended for editorial use only. All material for educational and noncommercial purposes only.
If you find Cinephilia & Beyond useful and inspiring, please consider making a small donation. Your generosity preserves film knowledge for future generations. To donate, please visit our donation page, or donate directly below: